Apple has been running the scene in the smartphones market for around a decade now. This is why it should not be surprising they launch highly improved versions of their already amazing cellphones relatively often. What never ceases to amaze consumers is the quality of these improvements and the extremely captivating features they constantly add with the release of new versions. The iPhone XS is not the exception to this pattern. With a set of truly incredible and strengthened features, renewed and more powerful components, and the same smooth and friendly interface, the improved version of the iPhone X represents an excellent option for those who crave for even better experiences.
In order to take it to the next level, the iPhone XS offers a faster processor, a fascinating display, and a higher storage capacity. However, when it comes to taking incredible photos, this device surpasses basically everything else in the market. An improved telephoto dual camera with a 2x optical zoom will deliver photos you simply will not be able to believe. This technology will allow you to take photos in both dark and highly illuminated environments, while the highly improved sensor, along with its new image processor, helps the zooming process to be easier and faster. All of these elements help your photos look almost professional with very little effort, making the iPhone XS camera one of the main reasons to make a purchase.
To be able to enjoy yours or other's photos to its fullest, the iPhone XS offers a highly improve screen OLED display, with higher resolution. This powerful screen notably exceeds the display in the iPhone X and iPhone XR, especially when watching movies or enjoying videos. If you need even a brighter, bigger screen, combined with all of the cool features of the iPhone XS, the iPhone XS Max is definitely the option you are looking for.
While it has a big, beautiful screen, the iPhone XS also has a very easy to handle design, much like its predecessor. This accounts for great comfort and the sensation of always being able to access its amazing features in a matter of seconds. As expected, this makes of it a cellphone you simply will not want to put away. An outstanding camera, a beautiful display, and a very comfortable, durable design, make of the iPhone XS the true evolution of an already amazing cellphone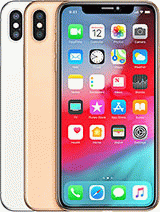 Great!
We are find the model iPhone XS Max
Please, choose the service