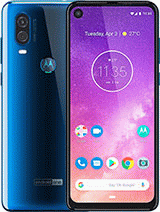 Everyone wishes for the coolest phone at the lowest price. This search for excellence and affordability makes it that whenever a phone offers remarkable features that you cannot find in its direct competitors at the same price or even lower than the other options, it is set to shake up the market. Motorola is trying to make an impact through the Motorola One Vision, a phone with elements of high-range devices but at a much friendlier price. The combination of incredible features and formidable specs of this phone makes it one of the best options out there for consumers on a low budget.
The Motorola One Vision has a 6.3-inch display with a 2,520×1,080 pixels resolution. The size of the screen is bigger, compared to some other very pricey phones you will find on the showcases, and the screen's resolution and color hue have nothing to envy from the flagship phones from other companies. To make the screen even better, pixel density is around the same number than phones that are twice and sometimes thrice as expensive.
Where the Motorola One Vision can probably leave some dumbfounded is at its incredible cameras. On the rear, a 48-megapixel sensor with Pixel Binning to take straight, soft pictures, accompanied by a 5-megapixel depth sensor to take landscape photos and make every shot look more professional. The camera offers features like night vision that we can only find in high-range price phones, taking pictures of an unbelievable quality even in very poorly illuminated environments. For selfies, there are portrait lighting modes that go perfectly with the phone's 25-megapixel front camera, a number that not many devices can claim to have. Combined with a 128 GB storage expandable up to 512GB and a long-lasting battery of 3500 mAh we can assure you will never get tired of capturing every moment around you.
Thanks to Google's Android One program, frequent updates are guaranteed for three years for the Motorola One Vision to keep it running smoothly and making your experience more pleasant with time. If they have added so much in a phone at this price, who knows what Motorola can bring to it in future updates.
With beautiful Saphire and Bronce designs, Motorola One Vision comes to crush its competitors to stand as the best budget phone, armed with a set of amazing features and specs that will make you fall in love with this new handset.